June 7th, 2008 |
Author:
Phyreblade
For those not totally and uncompromisingly nerdy, Yes. The title of this post is relevant (scientifically, any way) to the blade we'll be looking at today… 😛
Scorpion Fantasy Knife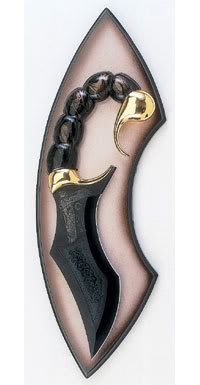 I'm just going to assume at this point that the average reader of this blog is intelligent enough to have figured out that Pandinus Imperator is the scientific name of the venerable Black Emperor Scorpion, AKA the African Emperor Scorpion. throwing "Cave", the latin for "beware" in front should (in theory) translate to "Beware the Black Emperior Scorpion…" Neat huh? What? Hey, I thought it was cool… Whatever…
Bah humbug. Well I'm also going to assume you understand why I chose this particular title. Even though technically, it's misleading, as the Black Emperor Scorpion is one of the most benevolent Emperors around, and is in fact, the scorpion of choice for those who keep them as pets… But If not, I apologise, but you will need to send me $50 in US currency, in order to discover the oh, so very intriguing reasons… 😛
Anyway, back to the topic at hand, I must admit to being a little surprised by the outstanding basic honesty of whoever named this blade. Unlike much of the usual black ronin samurai ninja fare i come across, "Scorpion Fantasy Knife" is comparatively simple, perhaps a little too simple. But it is straight to the point, and does not pretend to be anything it's not. In fact they could have just gotten away with something as simple as "Black Scorpion dagger/blade" and not have sounded pretentious… But I'm just nitpicking here…
But names, both scientific and fantasy, aside, I must say I love the contours of the blade. Curves that go on for days. The entire blade profile consist of nothing but arcs of varying radii intersecting each other. Eve n the finger guard is an uninterrupted continuation of the bottom most blade arc. Just wickedly sweet looking IMHO. It's a little bit bowie, a little bit Swords of Chaos, and all in beautiful black.
Now the hilt, weeeelll… that's a mixed bag. As usual the designer has opted to go with the form over function school and has created a designer piece that has a rather poor grip. Too short, too much curve, all show, little go. Not that the idea wasn't a good one. From an aesthetic perspective, they have captured the tail of the scorpion quite well. Even down the that excellently formed and placed stinger pommel.
I guess I should stop trying to evaluate artsy blades from the standpoint of practical functionality. I do like it's looks. It's just that the whole lack of functionality can usually be avoided without sacrificing the aesthetics. But it seems like they don't even try. It's a crying shame I tell ya. A crying shame…
Scorpion Fantasy Knife – [Realm Collections]

11 Responses to "Cave Pandinus Imperator…"